Our experts will give you their advice on the Birkenstock sandal to have a good fit, for a proper maintenance and to know all their advantages!
Birkenstock Buying Guide - The Ultimate Sandal
The return of warm temperatures and late sunsets means the cocktail and sandals season has started. This year we will see tones of people wearing Birkenstocks and we understand them, they are so versatile! So, if you want to get into the wave or you've been surfing on it for a while now, here are our best tips and tricks about this German sandal. Also, discover the great advice of our experts, learn how to maintain them, and match them to the latest trends!
What you will learn in this article:
Birkenstock - The comfortable and fashionable German sandals
 Why Buy Birkenstock's
Tips - Which model to choose? - Women and Men 
What size Birkenstock sandals should you choose? 
Birkenstock - The comfortable and fashionable German shoe
Who says Birkenstock, also says German sandal, emblem of the 70s and comfort. Propelled by the advent of the pandemic (the return to activities in nature, the enthusiasm for sports, and taking care of oneself) it is 100% logical that the Birkenstock has returned to fashion after a few years of being turned away; we have developed a taste for comfort. This sandal is actually worn by everyone (even the biggest celebrities!) and we are completely excited by this return!
Why Buy Birkenstock Shoes 
A question that many people may have on their lips is: why buy a pair of Birkenstocks? Several reasons could be given, but one of them is its comfort. In addition, the Birkenstock sandals last (literally), and buying these sandals is an investment for which your feet will be grateful!
1. Comfortable and well thought out 
So, are the Birkenstocks good for feet? In fact, Birkenstock is a brand that has built its reputation on the orthopedic support, flexibility, and comfort of its sole, so they are definitely good sandals for the feet! The model has evolved over time, this sandal even has a layer of foam absorbing the blows making the Birkenstock the Nirvana of comfort. However, it is relevant to know that this comfort is only accessible after wearing the sandals a few times, that is after molding them to your feet.
 
2. Sustainable 
Now, are the Birkenstocks sustainable? The answer is yes. First of all, the leather used is of high quality, they can be maintained easily. Indeed, leather is a material, when well treated, can be preserved for a very long time (we will give you some tips right after!). Then it is normal to wear the sole of the sandal over time. That's why the company, faithful to its past as a shoemaker, sells soles to replace damaged ones.
Tips - Which model to choose? - Women and Men 
Birkenstock offers several models of sandals, but which one to choose? We suggest the following models hoping that you will find sandals at your feet!

BIRKENSTOCK ARIZONA BLACK and BIRKENSTOCK ARIZONA EVA BLACK 
This model with adjustable straps is a model appreciated by both men and women. This black version is easily worn with a small summer dress, a more chic dress or even with overalls. We wear it for shopping and even for more chic evenings. Black is a go-anywhere color! The Eva model also stands out for its waterproofness, a practical aspect to consider when purchasing your sandal.


BIRKENSTOCK GIZEH BLACK 
For those who prefer to have the strap between the toes, this model is also easily worn for several occasions. Less casual, you wear it to work with a dress or jeans on Fridays. Its somewhat Egyptian side (Giza is an ancient city of Egypt) gives it a more refined and less massive appearance. We love it!

BIRKENSTOCK MADRID EVA WHITE 
This last model is the summer sandal of the last season. One of the smallest models and only has a strap, it goes well with everything, especially with a sunny summer complexion. We also dare to combine it with a look all in white for a more contemporary look, like the photo of inspiration. Also water-resistant, we take her on vacation to the beach and we postpone it to the evening for the cocktail. Pale, one might think it is dirty, but maintenance is easy because of its EVA sole made of a high-quality Vinyl shape.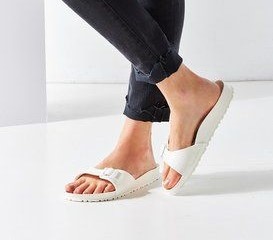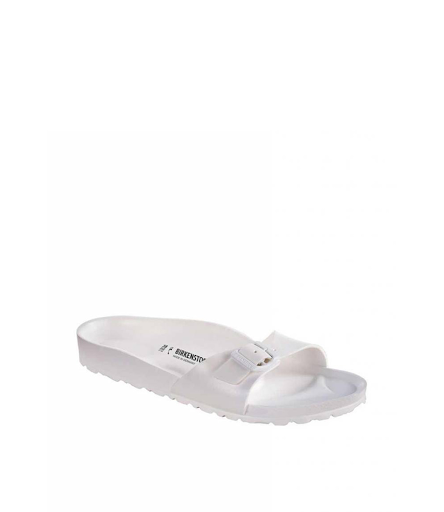 What size Birkenstock sandals to choose? 
Before you buy a pair of Birkenstock, you should know that there are two types of soles: the one for regular feet and the one for narrow feet. Then, when buying the sandal, you must be able to put on the sandal without your toes touching the edge of the footbed. Please also consult our size guide to know your size. 
3 tips for maintaining your Birkenstock with the Montreal temperature 
Now that you know the value of the famous Birkenstock, here are our best tips to make your shoes last despite the very changing temperature of Montreal. 
1. Avoid heat sources  
With summer just around the corner, the return of the heat is making itself felt and we are not angry. However, you should know that these sources of heat are not the best for the soles of these sandals. For example, asphalt and burning concrete, as well as cars that become furnaces, should be avoided. The footbed made of cork and ecological aqueous glue will disintegrate in contact with these sources of intense heat. It is, therefore, better to keep your sandals cool.  
In the worst case, you can replace your sole, as mentioned above. Everyone has the right to make a mistake and Birkenstock understands that! 
2. Avoid water 
If you are one of those who wear sandals rain or shine, be warned that not all models are waterproof. Water compromises the tightness of the sandal's materials and can possibly change its appearance. 
If unfortunately, the rain caught you by surprise and your sandals got wet, you can nevertheless let them dry in the open air (away from a source of heat and sun). Your Birkenstocks should recover! 
3. Clean, protect and deodorize
The Birkenstocks are durable, but the maintenance you do with them plays a big part of their lifespan. Here are our best tips for maintaining them: 
Dirt Stains  
To remove a dirt stain, only take a wet cloth and gently rub it with a little soap. You can also cover the leather with a protector to prevent other dirt stains from forming.
 
Bad smell  
To remove any traces of bad smell, repeat the same process and spray the sole with anti-odor spray. 
Cork sole  
Birkenstock materials are often of organic stock (leather and cork) and must therefore be maintained. To prevent the cork of the sole from cracking, apply sealant. This will also help the waterproofing of the material. Before starting the application of the product, clean the shoe with a wet cloth and a little soap to better penetrate the product.
How we can advise and help you  
To see the rest of the Birkenstock collection, take a look at our inventory. In addition, do not hesitate to contact us to have any additional information and advice. Even visit us in-store! Our goal is to help you find the shoe that will really please you, and this, for 119 years. At Tony Pappas, you will have impeccable service at every visit!