Posted on
By Tony Pappas
Posted in 1460 nappa, Dr.Martens, Dr.Martens boots, junior dr.martens boots, kids dr.martens boots, leather, Men's dr.martens boots, vegan, voss hydro, what size, women's dr.martens boots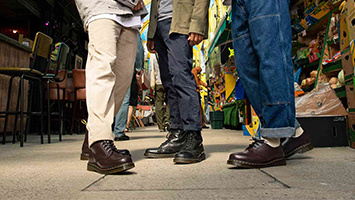 Discover the advice of our experts to choose your Dr. Martens boots! You will be fashionable and comfortable - How to break them - and vegan styles
Tips for Wearing Dr. Martens Boots
Spring is in full swing and what a good time to redo or rediscover your wardrobe of shoes and boots! In this article, we suggest the Dr. Martens brand and discover all the practical tips before you buy them for this spring. Our experts will also give you their best tips to match the latest trends and reveal the benefits of having docs in your shoe arsenal! We love this English brand for its versatility and unique style and we hope that you will also fall under its charm if that is not already the case! 
What you will learn in this article:
Who is Dr. Martens? - The famous English boot
Why buy Dr. Martens?
Tips - Which model of boots to choose? - Women and Men 
What size boots or sandals to choose? 
How to clean and break your Dr.Martens in with Quebec temperatures 
Who is Dr. Martens? - The famous English boot
Dr. Martens is a British brand of boots with a unique style that can be seen being worn by both the younger and older generations. However, let's settle the question right now: who is Dr. Martens? Indeed, the Dr. Martens brand was named in honor of Dr. Klaus Martens, a wounded foot soldier for whom the brand owner had designed a practical and comfortable pair of boots. Dr.Martens is also a boot well known for its versatile appearance, so it's a real asset for the wardrobe! 
Why buy Dr. Martens?
There are several reasons to buy Dr. Martens (without naming his unique style) and here are some of them that we believe will convince you! 
1. Sustainable
Inspired by the military boot, it is without a doubt weatherproof. So, is it even worn in the snow? The answer is yes, with a good wool sock or a warm insole. Some models are also padded. 
Finally, do not forget that this boot is easily fixed and that it can last a very long time when maintained (we will give you our tricks and tips!).
2. Comfortable (once broken!)
Many wonder if Dr. Martens are comfortable; the answer is yes, but only when you have the right size and have worn them a few times. Indeed, this boot molds to the foot over time and becomes a real slipper. We will give you our advice to not suffer further in the article!
3. Also offers vegan styles
And yes, Dr. Martens also have vegan boots (discover one of the models below in the article), either in vegetable leather and not animal leather. As people became more aware, this brand, offering only animal leather boots before, diversified its range. It should be noted that these are of as good quality as the original models. 
Tips - Which model of boots to choose? - Women and Men
Dr. Martens has a very wide selection of models, so which ones are best for you? Here are our favourites and our style suggestions for men and women!
DR. MARTENS 1460 NAPPA BLACK
This model with a slightly less thick sole is worn both by women and men. Shorter on the ankle than other models, you can wear it with virtually anything. The Nappa Black is a classic that you wear to work or to do the shopping; it is a city shoe that you love.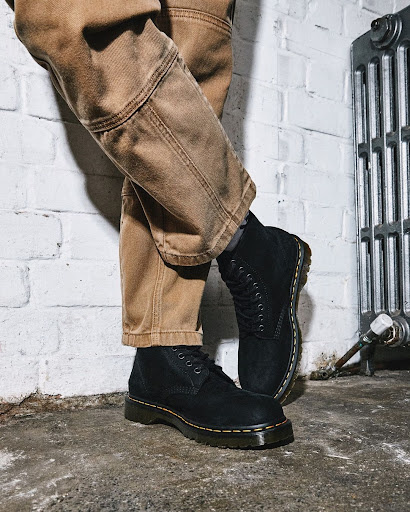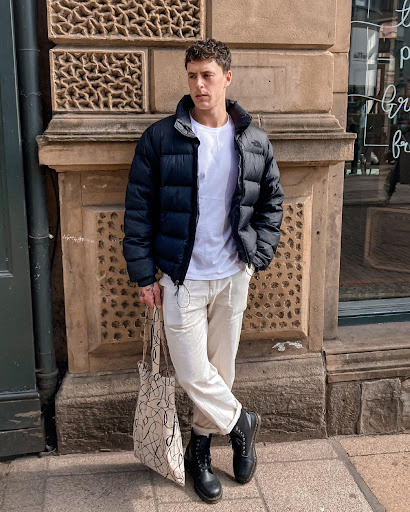 DR. MARTENS 1460 BEX BLACK
The Bex Black similar to the Nappa Black has a slightly higher platform and remains relatively short. Worn by ladies, it is worn in the evening with a shorter chic dress to give a more edgy style or every day with colorful pants. Its leather being matte, this shoe is less eye-catching but adds a unique look to your outfits.

 DR. MARTENS VOSS HYDRO BLACK
Boots may be too hot for some, but the Voss Hydro Black sandal is a good compromise to have a shoe that keeps the same bulky style that we recognize in Dr. Martens. It is suggested to wear trousers to show the ankle or dress to refine the leg. In addition, the look of jeans with leather sandals is a style we love! Wear it in the summer for a cocktail or for a more casual look at work.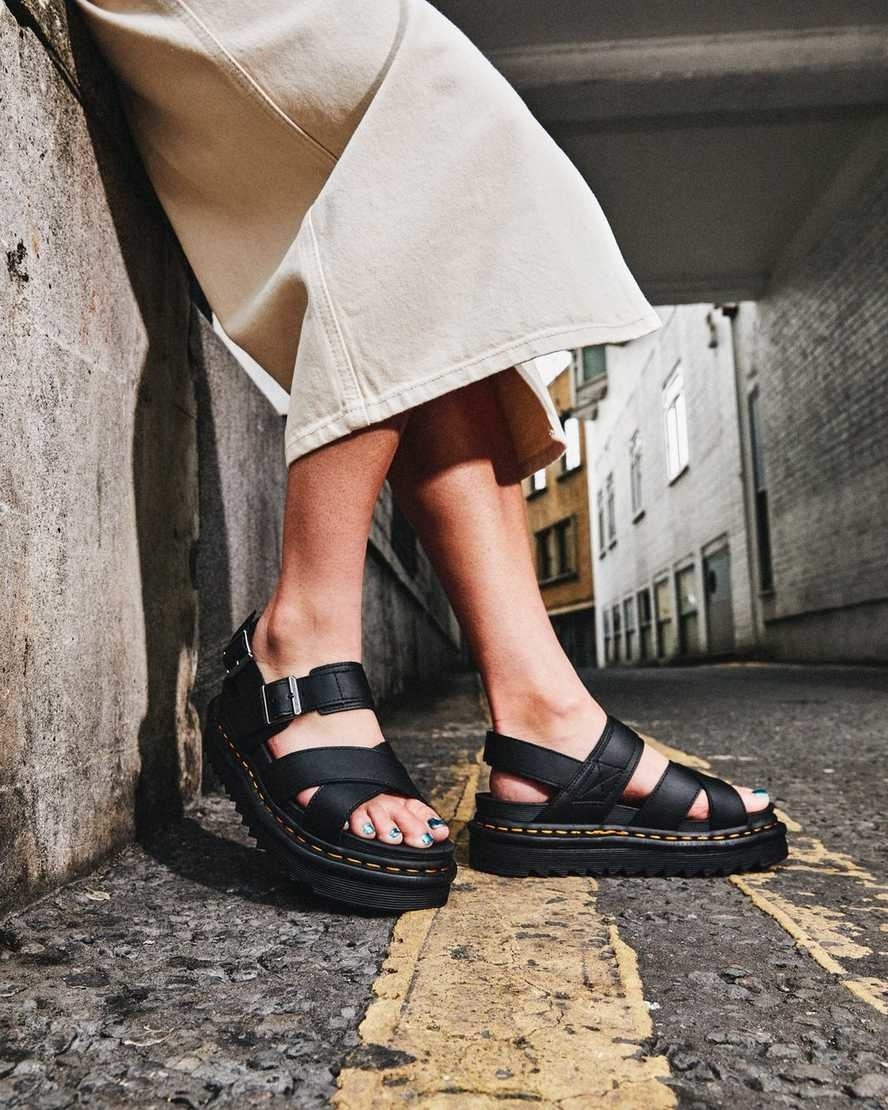 DR. MARTENS VEGAN 1460 OXFORD RUB OFF CHERRY RED
The Vegan 1460 Oxford Rub Off Cherry Red is the «cherry on top of the sundae» of your wardrobe. This one is ideal to add a subtle touch of color to your look. When paired with black, grey, brown, or white, it is worn at work for a more distinctive appearance or with a weekend jog. These Dr. Martens are a good way to elevate an outfit to give it an extra touch of glam!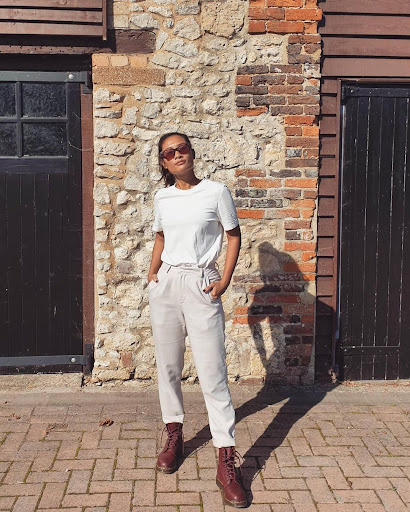 What size boots or sandals to choose?
Having the right size, and the right fit is what makes it possible to be well in Dr. Martens. So, we advise you to take your usual size. Also, if you take a half size, we suggest sizing down, especially for boots. If you want to take a larger size to have a wider boot, this will not help; as each size has roughly the same width.
How to clean and break your Dr. Martens in with Quebec temperatures. 
The temperature in Quebec is known to be up and down, but your Dr. Martens, even if they are durable, do not have to suffer! Here are the tips of our experts to take the greatest care. 
1. How to break them
To begin with, we have to admit, that saying that Dr. Martens are pleasant for the feet may seem wrong at first. However, it is true that these boots become small clouds after wearing them a few times.
To start, we advise you to wear two pairs of socks to help stop blisters from forming (the ankles, the arch of the foot, etc.) and to wear them over small periods at the start. Then, it is advisable to fold the boot repeatedly in all directions to make the leather softer and thus reduce friction with your dear little feet. Finally, we suggest you stretch your boots at night with a newspaper or socks. Be creative; the goal is to fill them as much as possible in order to slightly enlarge them!
2. Clean, protect, and deodorize
Dr. Martens are durable, but the maintenance you do with them plays a big part in their lifespan. Here are our best tips for maintaining them:
Dirts stains
To remove a dirt stain, only take a wet cloth and gently rub it with a little soap. For dirtier boots, rinse gently with warm water and allow to air dry away from heat and sun sources. 
Bad smell
To remove any bad smell, wipe the inside of the boot with a damp, slightly soapy cloth. Then spray the sole with anti-odour spray. 
Worn leather
To prevent stains from becoming embedded in the leather of the boots or to revive your Dr. Martens, please apply wax to nourish the leather and waterproof it. Make sure the boots are clean before you start. 
Suede
To clean your Dr. Martens suede boots, please dust them with a brush, apply a suede renovator with a small clean brush and let them dry in the open air. 
How can we help you 
To see the rest of the Dr.Martens collection, take a look at our inventory. In addition, do not hesitate to contact us to have any additional information and advice. Visit us in-store! Our goal is to help you find the shoe that will really please you, and this, for 119 years. At Tony Pappas, you will have impeccable service at every visit!